Strausberg Fantasy
V 3.0 mod for OMSI 2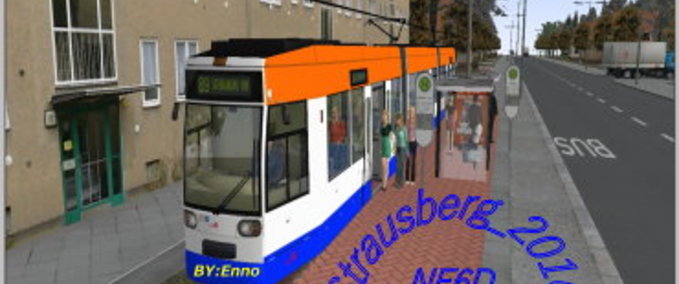 description
Strausberg Fantasy V2
Want you in this way My dritë Map Imagine
have the map for a friend from my Lieste Erstelt and also for you.
The Map Did announcements New timetable and a Ki Bus
Strausberg Fantasy V2 is only needed 2 Omsi Hauptprogamm and for beginners it is not bad,

01 Bus 08900 is 89 and is in Strausberg a tram and a bus with me.
02 Bus 93100 is 931 and is original a bus from Strausberg
01 So 89 stümt the holding steles match almost
02 So 931 stümt the hold tele Non Convention which fictitious
Rods of buses
Rute 01 Bus 89 from Strausberg Bhf to Strausberg Lustgarten
Rute 02 Bus 89 from Strausberg Lustgarten for Strausberg Bhf
Rute 01 Bus 931 Strausberg Bhf to Strausberg city
Rute 02 Bus 931 Strausberg city to Strausberg Bhf
Want to thank to these routes and drive a lot of fun while
With Freuntlichen Greeting Enno
Credits
Strausberg Fantasy V3 NEW (Meiner)
changes
17 Sep 13:07

Version 3.0

Achtung: Die Strausberg Fantasy V3 ist Die Neue Strausberg_2016
änderung der Map jetze ist die Line 89 mit einer NF6D zu fahren und nicht mit den Bus.
2 Neue Lienen sind mit bei .BITTE PDF Ganz Wichtig LESSEN.

08 Jul 21:16

Version 2.1

Achtung Wer Omsi 2 Nur Hat und keine Addons Bitte ailists_Strausberg Fantasy V2 Ersätzen
da die Ailists die in Map Prtner ist für Normal Omsi 2 mit Addon Statbus Also Nur ailists Tauschen Danke

06 Jul 15:06

Version 2.0

Bitte die Sreausberg Fantasy V2 Benutzen
1 Die Map Hat Ab Jetze Ansagen
2 Die Map Hat eine Ki Line nur (PC)
3 Kleine Änderungen der Map
Files

Empfehlungsrate
-/-
noch nicht genug Stimmen
Do you think this mod should be featured?
}