Repaint_Halberstadt_Nf6D-530
V 2.0 mod for OMSI 2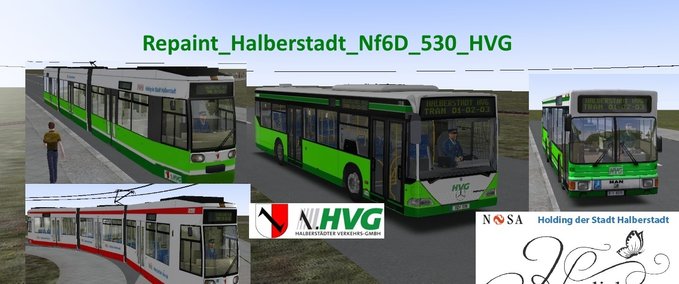 description
V2.0 Repaint_Halberstadt_Nf6D-530
Would you like On this way a new Repaint_Halberstadt_Nf6D-530 / HVG imagine.
01 Repaint_Halberstadt_NF6D There are 2 repaints in it.
02 Repaint_Halberstadt_530 there are 2 in there.
03 Hof file of Halberstadt_HVG which is not yet finished (sample)
I would like to ask you what you think of it if I the map of Haberstadt where the tram 1-2-3 unterwecks are as well as 1 to 2 buses would be pleased me over your Kommetare and wishes.
Little Info May Not Changed or Posted:
Without which I give the approval, the copyright lies with Enno
Copyright: © Enno ....
MFG Enno From Brandenburg.
Credits
Modell: 
Textur: 
Script:
Idee / Konzept: 
Tester:
Sonstige: 
changes
09 Aug 15:01

Version 2.0

da hat sich nur ein MAN_NL_Werbung_EN92_Halberstadt_Repaint es befindet eins drin .

06 Aug 14:10

Version 1.0
Files

Empfehlungsrate
-/-
noch nicht genug Stimmen
Do you think this mod should be featured?
}